BigCommerce Vs Shopify: Our side-by-side comparison
BigCommerce Vs Shopify, which ecommerce platform should you choose? This article will look at pricing, transaction fees, sales limits, market share and many other aspects that can help you decide which ecommerce platform suits your needs now, medium term or long term.
What's the difference between BigCommerce and Shopify?
Both BigCommerce and Shopify are SAAS (Software as a Service) products which are sold as monthly subscriptions. The subscriptions pay for the hosting server, website infrastructure maintenance including upgrades and keeping security up to date.
With BigCommerce you get 10% OFF if you pay annually on the BigCommerce Plus and BigCommerce Pro plans.
While Shopify gives 10% discount if you pay annually on its Basic Shopify, Shopify or Advanced Shopify plans. Also, you can upgrade your plan anytime with Shopify.
Shopify was established 3 years before BigCommerce. This may not be the only reason why Shopify has far more customers (businesses) using it than BigCommerce.
By the time you finish reading this article, hopefully you'll have more information to help you choose between the two ecommerce platforms.

BigCommerce Pricing
Shopify Pricing
Pricing in USD per Month
BigCommerce Standard Plan: $29.95 USD
BigCommerce Plus Plan: $79.95 USD
BigCommerce Pro Plan: $299.95 USD
Basic Shopify Plan: $29.00 USD
Shopify Plan: $79.00 USD
Shopify Advanced Plan: $299.00 USD
Own Payment Gateway
BigCommerce doesn't have its own payment gateway but it integrates with 60+ well known payment processors.
Shopify has its own payment gateway called Shopify Payments and also integrates well with 100+ popular payment gateways.
Transaction Fees
If you're using
3rd party payment processors like PayPal, Stripe etc.
With BigCommerce, they're No Transaction Fees for using
3rd party payment processors.

You're free to use popular payment gateways like PayPal, Stripe, Apple Pay etc
If you've Shopify Payments disabled:
(meaning you've chosen to use a 3rd party Payment Gateway like PayPal instead of Shopify Payments)

Shopify charges you Transaction Fees at these rates- based on your plan.

Basic Shopify Plan: 2%
Shopify Plan: 1%
Shopify Advanced Plan: 0.5%
–
–
–
BigCommerce vs Shopify: Pricing
BigCommerce vs Shopify – Customer Service

BigCommerce
Shopify
Customer Support
BigCommerce has a Help Center and when you CLICK Contact button
you see these:
1. System Status.
2. Ask the Community.
3. Live Chat.
4. Phone Support.
5. Email Support.
Shopify encourages its customers
to get answers from 3 Resources in this order.
1. Community forums.
2. Help Center.
3. Contact support.
I personally like the idea of system
status because you would know if the issues, you're experiencing are system wide.
This approach encourages self-reliance
to avoid too much dependence on
technical team. If you have the same problem next time – you would know what to do yourself.
BigCommerce vs Shopify – Customer Support
"When it comes to support, merchants contacting BigCommerce have a wait time of less than two minutes on average to speak to a support rep with 90% of support calls resolved on the first call."

BigCommerce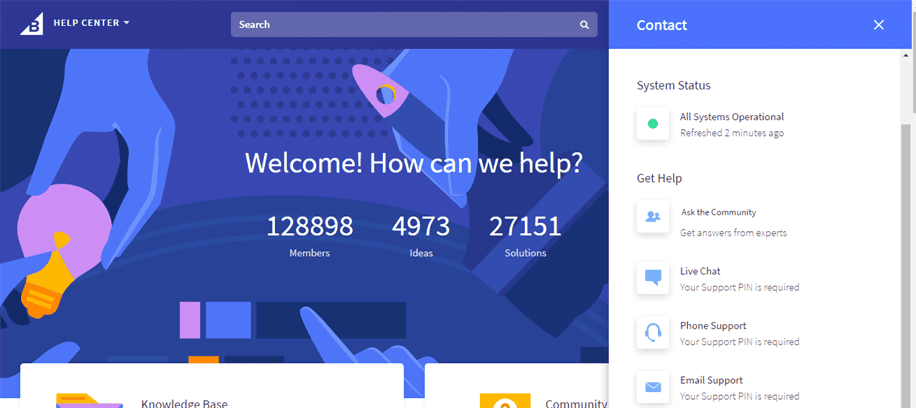 BigCommerce vs Shopify: Pricing & Sales Turnover Limits.
BigCommerce Sales Limits
Shopify Sales Limits
Subscription plan 1
BigCommerce Standard Plan: $29.95 USD/month
>Up to $50k – Online Sales per year

(Sell online with your own beautiful online store)

Basic Shopify Plan: $29.00 USD /month
>No Sales Limits

(Best for new ecommerce businesses with occasional in-person sales)

Subscription plan 2

BigCommerce Plus Plan:  $79.95 USD /month
>Up to $180k – Online Sales per year

(Grow your online business with marketing tools proven to increase conversion)

Shopify Plan: $79.00 USD /month
>No Sales Limits

(Best for growing businesses selling online or in-store)
Subscription plan 3

BigCommerce Pro Plan: $299.95 USD /month
>Up to $400k – Online Sales per year

(Scale your growing business with a comprehensive set of features)

Shopify Advanced Plan: $299.00 USD /month
>No Sales Limits

(Best for scaling businesses that require advanced reporting)

Subscription plan 4

BigCommerce Enterprise: Custom Pricing

(Power your team's success with the best full-service open ecommerce platform)

Shopify Plus Plan: Custom Pricing

(For High Volume Merchants and Large Businesses)

BigCommerce vs Shopify – Subscription plan sales turnover limits.
BigCommerce vs Shopify: Market Share (Revenue)
BigCommerce
Shopify
Year Founded
2009, Sydney, Australia
2006, Ottawa, Canada
Office Headquarters
Austin, Texas, United States
Ottawa, Canada
Revenue
Revenue: 112.1 million USD (2019)
Revenue: 2.93 billion USD (2020)
Market Share
BigCommerce's Market Share is growing steadily. Just under 130,000 merchants use this ecommerce platform (at the time of writing this article – August 2021).
Take a look at the Market Report available here at https://enlyft.com/tech/products/bigcommerce

There is a report that BigCommerce signed a deal with Amazon to provide logistics.

The deal with BigCommerce will allow Amazon's multi-channel fulfillment (MCF) to expand to companies that don't sell on Amazon. MCF has been used by Amazon's growing number of third-party sellers to fulfill orders on their own websites.

This is likely to boost BigCommerce's Market share.

1,700,000 businesses in 175 countries around the world have processed sales worth $200 billion USD using Shopify ecommerce platform (data correct as at August 2021)
BigCommerce vs Shopify – Revenue – Market Share
If you're familiar with what Drop shipping involves, you would be aware that it's an online business that has 3 essential players in it.
Your Online Store running on an ecommerce platform like BigCommerce or Shopify.

Say you're selling a product for $30 USD that you buy for $20 USD – Your store makes $10 USD.
You send $20 USD plus details of the order including customer address to drop shipper.
The success of any online business hinges on how much traffic you can drive to your website store so you need to invest time and money to achieve success.

A dropshipping supplier with whom you have an agreement with to ship any products bought by your customer, direct to them.

On receipt of payment, the suppliers pack the product ready to ship.
Drop Shipping supplier then ships the product direct to customer.

Your customer starts the sequence of events.

Customer buys the product for $30 USD.
As part of the order the customer gives their delivery address details.
Customer then receives the product shipped direct from drop shipping supplier, assuming its coming direct from the online store they bought from.
As you can see from the above, the store owner doesn't need to spend money on buying stock to sell. They need to invest time and money to promote the website store so they can get free traffic.
BigCommerce Dropshipping
Shopify Dropshipping
Dropshipping Apps
BigCommerce has 13 dropshipping apps supplied by external suppliers (10 paid for while 3 are free).
Example apps such as: Spocket Dropshipping, Printful, Aliexpress Dropshipping By Ced,
e-ProductPlugCommerce, Inventory Source, and others.

Most of the functionality is built-into the BigCommerce platform, could well be the reason there are not as many apps provided by 3rd party developers.
Shopify App store has 288 apps for Dropshipping alone (237 Apps free while 57 are paid for). Here are some of popular dropshipping apps.

DSers ‑ AliExpress Dropshipping, Spocket ‑ US & EU Dropshipping, Printful: Print on Demand, SaleHoo Droship, Oberlo ‑ Dropshipping, Printify: Print on Demand, CJDropshipping, DropCommerce: US Dropshipping and many more besides.

With so many apps on the Shopify platform you're guaranteed to find the functionality you're looking for.
BigCommerce vs Shopify Dropshipping
BigCommerce vs Shopify – Ease of Use
| | | |
| --- | --- | --- |
| | BigCommerce | Shopify |
| Beginner Merchant Friendly | Beginners can use BigCommerce too, however there's a lot to learn when compared to Shopify | Shopify is beginners favorite because its easier to use. |
| | | |
BigCommerce vs Shopify – Ease of Use
BigCommerce vs Shopify – Apps
There may be some features that are not available out-of-the-box from either BigCommerce or Shopify. However, by using approved apps you can get more functionality. Both BigCommerce and Shopify have their own app stores.
BigCommerce Apps Store
Shopify Apps Store
Apps available
850 apps
BigCommerce comes with a lot of features out-of-the-box, so you wouldn't many apps to get the same functionality.
6,000 Apps available
3rd party developers more likely to develop apps for Shopify because of its popularity and big market share.
Cost of ownership
BigCommerce already has most features built-in into its plans so you won't need many apps in comparison to Shopify.
Fewer apps used = less cost
Useful Shopify Apps cost money so it can increase your monthly payments.
More Apps used = more cost.
BigCommerce vs Shopify – Apps
At the end of the day an ecommerce platform is just one of the tools you need to sell your products. If your business only needs to use say 5 apps to do what you want then it doesn't matter if a platform has 200 Apps or 2000 apps in their stores. What matters is getting the tools that help you manage your online store NOW and has scope for growth.
BigCommerce vs Shopify – Integrations
Both BigCommerce and Shopify App Stores lists apps that have been approved to integrate well with the respective platform. This is achieved by giving app developers the code necessary to work well with the platform.
BigCommerce Integrations
Shopify Integrations
ecommerce platform Integrations
Examples of BigCommerce Integrations:
BigCommerce PayPal
BigCommerce Amazon integration
BigCommerce WordPress integration
BigCommerce Stripe integration
Shopify App Store has over 6,000 apps so you're going to find the tool
that you seek to help you manage your store.
BigCommerce vs Shopify – Integrations
BigCommerce vs Shopify: Conclusion
Shopify has a user base of 1,700,000 merchants as of August 2021 and compare that to 130 000 merchants using BigCommerce. There must be something that makes Shopify so popular.
Before you make a choice on which platform you're going to use for your online store, both platforms provide trial periods.
BigCommerce Trial period: 15 Days
Using the information in this article such as pricing & transaction fees, sales turnover limits, available apps and other integrations you'll reach an informed decision.